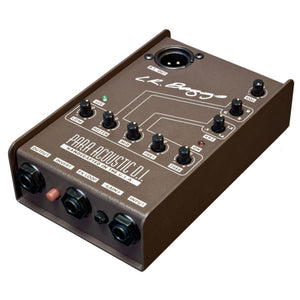 The Para DI preamp features a five-band equalizer with tunable notch and midrange controls, adjustable gain and phase inversion. A big advantage the Para DI has over conventional equalizers is the proprietary Quasi-Passive EQ circuitry which is totally transparent and allows control over instrument voicing without sacrificing tonal purity.
The five-band EQ controls include treble, presence and bass controls, along with sweepable mid EQ and a tunable notch filter designed to help with feedback problems. The notch control can also be used as an EQ knob, and has the capability to clarify a boomy or muddy tone. Slight boosts will give a thin-sounding guitar more body and acoustic sound octave range.
The presence control effects hissing sounds, cymbal sizzle and brightness. It provides a cut to remove PA horn 'glare' or a boost to add life to a dull speaker. To accommodate a wide range of pickups, the Para DI has 24 dB of adjustable gain for optimum performance and the lowest noise with a variety of input sources, including low output pickups. The phase inversion switch for increases control over feedback.
The Para DI's useful battery status LED light and an effects loop jack to provide a send-return on a stereo jack for outboard effects that allow you to blend reverb, chorus or other effects in with a dry signal.