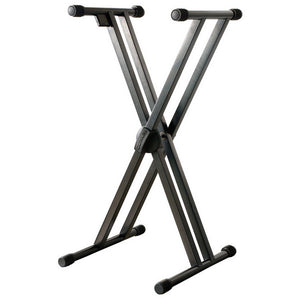 The ingenious TRIGGER LOK system designed by QUIK-LOK houses five positive-lock height positions and is completely sealed exposing no parts. The mechanism allows the user to instantly open and close the stand from the top tiers without having to push or pull any knobs or buttons on the center disc, but simply squeezing the trigger and releasing it once the stand is positioned at the desired
Constructed using heavy duty 30 x 30mm steel tubing, the double-brace T/550 is strong enough to hold keyboards up to 180 lb (81 kg).
The single-tier T/550 structure is also easily expandable by adding optional QLX/1 adjustable-Second-tier or any of the available QLX accessories.