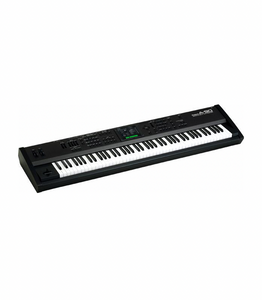 Keyboard: 88-key Hammer-action with velocity and channel aftertouch.
Max Polyphony: 64 voices (with VE-RD1 Expansion board).
Zones: 4 Internal + 4 External or 8 External.
Internal Memory: System Setup: 1, User Name Maps: 4, Preset
Name Maps: 8, Performances: 64, Chains: 10, Manual: 1.
Rear Panel: 
MIDI
 In x 2, Thru x 1, Independent Out x 4 Foot
controller jacks: 2 Foot switch jacks: 2 Total volume pedal jack
Hold pedal jack Output jacks: L(Mono), R Headphone jack
Breath controller jack Memory card slot.
Dimensions: WxDxH 1456×405×143 mm.
Weight: 27.3 kg (60lbs 4oz).